Ben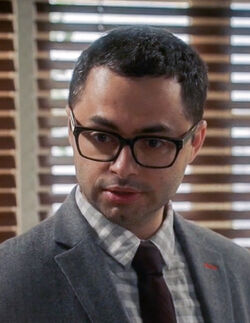 Ben works for Pritchett's Closets & Blinds. He still lives with his mother, who is an alcoholic. He looks up to Jay and is often seen working for Claire, even though neither one of them seem to think highly of him. Ben starts dating Alex in "Do You Believe in Magic" after she finds out he has been sending her flowers as a secret admirer.
Appearances
Season 6
Season 7
Season 8
Season 9
Trivia
Quotes
Ben: [after being kissed by Alex]: Wow. Aha. Okay, that was very cool but you should know that I have dedicated my life to closets, I am obsessed with your grandfather and I sleep with a body pillow that I put a nightgown on.
Alex: Stop, you're making it better!
Ad blocker interference detected!
Wikia is a free-to-use site that makes money from advertising. We have a modified experience for viewers using ad blockers

Wikia is not accessible if you've made further modifications. Remove the custom ad blocker rule(s) and the page will load as expected.