Calhoun Johnson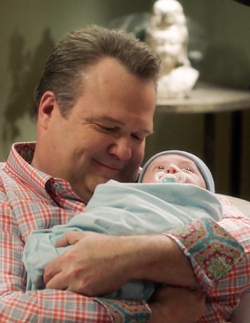 Full Name
Calhoun Johnson
Seasons
S1
-
S2
-
S3
-
S4
-
S5
-
S6
-
S7
-
S8
Calhoun Johnson
is the son of
Pam Tucker
and
Bo Johnson
. He was born in
Mitchell
and
Cameron's
house. His mother carried him for nine months without telling her family about being pregnant because they didn't want her to get back together with Bo and she didn't want them to think she was a screw up.
As a newborn Calhoun doesn't sleep well, making Pam exhausted. ("All Things Being Equal")
Ad blocker interference detected!
Wikia is a free-to-use site that makes money from advertising. We have a modified experience for viewers using ad blockers

Wikia is not accessible if you've made further modifications. Remove the custom ad blocker rule(s) and the page will load as expected.