Coach Stupak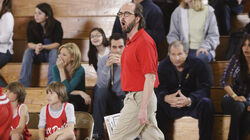 Also Known As
Coach Stupak
Occupation
Middle School Basketball Coach (formerly)
Seasons
S1
-
S2
-
S3
-
S4
-
S5
-
S6
Coach Stupak
is
Luke Dunphy
and
Manny Delgado
's former basketball coach.
In "Benched", Gloria and Claire warn their husbands that Luke and Manny's hot-tempered basketball coach yells at the team all the time and makes cruel remarks. Hence, Jay and Phil try to convince him to treat the kids better but he suddenly quits, giving the job to Jay and Phil.
Ad blocker interference detected!
Wikia is a free-to-use site that makes money from advertising. We have a modified experience for viewers using ad blockers

Wikia is not accessible if you've made further modifications. Remove the custom ad blocker rule(s) and the page will load as expected.