DeDe Pritchett
Comments

4
474pages on
this wiki
DeDe Pritchett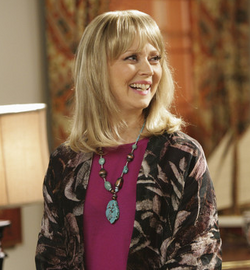 Full Name
Delia Pritchett
Delia "DeDe" Pritchett
(nèe
Williams
) is
Jay Pritchett
's ex-wife, the mother of
Claire Dunphy
and
Mitchell Pritchett
and the grandmother of
Haley
,
Alex
,
Luke
and
Lily
. She caused a scene at Jay and
Gloria
's wedding, which is referred to as "
The Incident
". She later apologizes to Gloria, but tries to hit her moments later.
Biography
Edit
It is implied that she was initially more accepting of Mitchell's sexual orientation than Jay was when he first came out. She often uses her close relationship with Mitchell to get him to do things she doesn't want to. She is still bitter over Jay's re-marriage to Gloria and even attempted to ruin their wedding, which she convinced Mitchell to invite her to, by getting drunk and making rude and inappropriate toasts, and eventually had to be dragged out of the reception. She is also passive aggressive toward Cameron about his weight, and is often critical of Claire.
Appearances
Edit