Fergus Anderson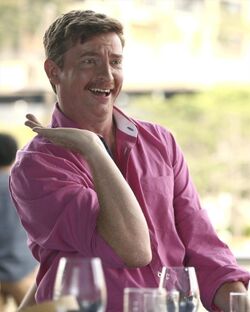 Full Name
Fergus Anderson
Occupation
Talk Show Host
Seasons
S1
-
S2
-
S3
-
S4
-
S5
-
S6
Fergus Anderson
is one of
Mitchell Pritchett
and
Cameron Tucker
's old friends who appears in the episode "
Australia
".
He hosts his own talk show which is called The Fergus Anderson Show. Since Fergus saw that Mitch and Cam were visiting Sydney through Facebook, he invited them to lunch. They thought he was annoying at first, but after finding out he was famous wanted to hang out with him more. Fergus invited them to go on a yacht with Hugh Jackman, which causes Cam and Mitch to leave everyone else who was going on a hike. Unfortunately there is a argument between Fergus and Hugh so Fergus rents a boat instead.
Ad blocker interference detected!
Wikia is a free-to-use site that makes money from advertising. We have a modified experience for viewers using ad blockers

Wikia is not accessible if you've made further modifications. Remove the custom ad blocker rule(s) and the page will load as expected.