| | | |
| --- | --- | --- |
| | A woman is never okay with this. We wait, and when you least expect it, we make you pay. | |
Gloria Marie Delgado-Pritchett (neé Ramirez), known as Gloria Pritchett, is the feisty, fun-loving Colombian wife of Jay and the mother of Manny and Joe who later becomes an American citizen in Patriot Games.
Biography
She was born and raised in a small village she claims is famous for all the murders. She is much younger than Jay, but it doesn't matter to her, being a loving wife and mother. She is also known to say whatever is on her mind, even if it hurts another's feelings. One of her most distinctive traits is her trouble with the English language although her son, Manny, seems to have adjusted well to his new life in America. She is well known for her many mispronunciations, and using phrases incorrectly. She often supports Manny when Jay tries to tell him to be less sensitive or hide his Colombian background. She wears many fashionable outfits and is considered very beautiful by almost every person she talks with. In "Baby on Board" it was revealed she was pregnant. She gave birth in "Party Crasher" to Fulgencio Joseph Pritchett.
Before the show
Gloria was born in Colombia to Pilar and Fulgencio Ramirez. She has other siblings, including Sonia and two unnamed brothers. Living in a poor village, she is evidently used to doing manual labor and frequently implies violence as a solution to problems. She states that she had her own machete when she was young ("Fizbo"), and has considerable comfort in killing animals due to relatives who are butchers ("Unplugged"). Crazy traditional, Gloria firmly believes in superstitions and that her family is cursed because her great-great-grandfather made a deal with the devil, causing many of her relatives to end up in jail ("Larry's Wife"). Gloria also frequently mentions that she used to join (and win) beauty pageants where she showcased her ventriloquist dummy Uncle Grumpy, later seen to be strikingly similar to Jay ("Yard Sale").
When she was younger, she received a letter addressed to her sister Sonia with an opportunity to leave for the US. She used the letter and ends up leaving instead of her sister. This would later cause friction between the two ("Fulgencio"). Jay mentions that she had been deported twice ("Open House of Horrors").
She also stayed in Texas and Florida for some time, both of which she became wanted by the police. Until the events in "Goodnight Gracie", she was wanted in Florida for subletting an apartment which her roommate turned into a brothel after she left. It is also in Florida where she gave birth to Manny in 1999.
She used to be a cab driver and a hairdresser at a salon near her apartment in the slums. Jay said he used to sweat a lot while visiting her apartment, having to climb three flights of stairs. ("Two Monkeys and a Panda")
Gloria met her future husband Jay at a diner while she was with Sonia. Jay (who could only see Sonia as Gloria's back is turned to him) sent a pie over to Sonia but she missed it as she went to the bathroom. Gloria later comes over to thank Jay thinking it was for her ("Fulgencio").
Personality
Gloria is often characterized by her loud, outspoken attitude noticeable even from a distance that one neighbor once thought they own a parrot ("Unplugged"). She is shown to be very expressive in her speech; often imitating the sounds of things when she does not know what to call it, and shouting loudly when she is upset. Due to her fiery nature, she often times clashes with Claire, another strong female.
She is shown to enjoy the limelight, as she makes effort to be noticeable especially when it comes to her appearance and tends to get jealous when other women get more attention than her, as seen when she fires attractive female babysitters from her house so they don't outrank her ("The Help"). Gloria also states that all friends of Jay has hit on her, except Shorty ("Fifteen Percent"). She frequently uses her good looks and sexy features to her advantage, which is why she becomes frustrated when she tries to help Claire's campaign for office using the telephone, as people do not see her and respond as she wants ("Election Day").
She is shown to be very proud of her Colombian roots and insists on carrying on several of her Colombian traditions. A devout Catholic, Gloria is shown to value strong family ties and religion above all else. Jay says that Gloria likes to celebrate even little events he would consider insignificant ("Two Monkeys and a Panda").
Season Summaries
Occupations
(formely) Hairdresser
(formely) Taxi Driver
(currently) Stay-at-Home Mom/Housewife
Relationships
Family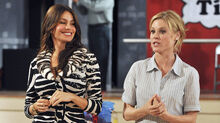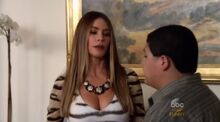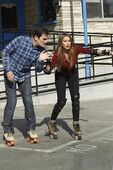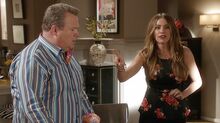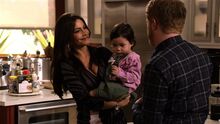 Biological Family
Coming from a traditional Colombian family, Gloria is extremely close to her biological family, some of which have appeared throughout the series. Gloria states that she has 29 cousins and she remembers all their names ("The Musical Man"), including Armando (who appears in "American Skyper"), Rosa Marina, Gloria Maria, Veronica Maria and Jose Vicente.
29 Cousins
Gloria says she has 29 cousins although we don't see all of them, of course, we see at least 5 of them, but the four that we do see don't have that much of a relationship with her.
Two Unnamed Brothers
Carlos
Trivia
She along with Jay, Phil, Claire, Mitch, and Cam are the only characters who have appeared in every episode.
She is 14 months younger than Claire ("After the Fire").
Gloria has excellent aim in using guns, as demonstrated when she shoots the lid Jay was holding in Manny Get Your Gun, at the shooting range in Virgin Territory, and when she shoots the drone to pieces in Closet? You'll Love It!. This habit seems to be shared with her biological family as it was shown that they have a gun as an heirloom ("Fulgencio").
Gloria reveals that she only walks Stella so she can smoke her cigars in peace ("iSpy").
She has a penchant for luxury cars, as she states she has been in love with the classic Rolls Corniche all her life ("New Year's Eve").
Quotes
---
Jay: Why does everybody always assume I'm having a stroke?
Claire: Age.
Manny: Diet.
Gloria: You forgot to bring my bread.
— From "See You Next Fall"
Gloria: You have a problem with the way Manny is being raised, you talk to me!
Jay: I am.
Gloria: [storming out] I don't want to hear it!
— From "Aunt Mommy"
Gloria: You can't go around telling people what they can and can't do.
Jay: So you're in favor of this?
Gloria: No, it's a freakshow! But, it's their freakshow.
— From "Aunt Mommy"
Gloria: There is no way that thing should stay upright.
Jay: There's no way you should stay upright, but it works.
— From "Slow Down Your Neighbors"
Gloria: You didn't do one thing wrong, you did everything wrong! I wonder how she still talks to you.
Phil: She said she was okay.
Gloria: A woman is never okay with this. We wait, and when you least expect it, we make you pay.
— From "Regrets Only"
---
Jay: Gloria, is Stella up there?
Gloria: No, but I am. Why don't you say hello to your wife when you come home?
Jay: Why don't you greet me at the door wagging your tail?
— From "Little Bo Bleep"
---
Jay: A little early for tequila, isn't it?
Gloria: It's for Luke.
Jay: I'm sure that makes it all better.
Gloria: I see the way he looks at this bottle. He looks at it the way you look at me in that strapless dress.
Jay: I do love that dress.
— From "Grill, Interrupted"
---
Appearances
Please go to here for color coding.
Gallery