| | | |
| --- | --- | --- |
| " | This crazy bitch just messed with the wrong crazy bitch. | " |
Haley Gwendolyn Dunphy
is the eldest child of
Claire
and
Phil Dunphy
and also the sister of
Luke
and
Alex
. Haley has an on and off (
currently off
) relationship with her ex-boyfriend,
Dylan
. Haley is currently in a long-distance relationship with her boyfriend,
Andy Bailey
. Haley told him he is the first man she ever loved ("
Double Click
"). Haley is currently working as an Assistant Fashion Designer to
Gavin Sinclair
. She graduated from a two-year college after attending it for three years ("
Express Yourself
").
Biography
Before the show
Haley was conceived before her parents got married during a Duran Duran concert ("Message Received"). Claire and Phil eloped afterwards and told everyone that the pregnancy was a surprise. They also had to suspend their honeymoon to Hawaii because of Claire's pregnancy with Haley ("Hawaii"). It was explained that Haley was very close with her mother when she was younger, but they grew apart once she hit adolescence. She constantly bickers with her parents and younger siblings especially concerning her popularity at school, but does seem to generally love and care about her whole family.
Appearance
Haley is young and pretty. She is of average height and is very maverick and rebellious. She tends to have her hair very long, but cut it in Season 7.
Personality
Haley is better remembered by her family for being the pretty girl in the family, and most of her interests and advantages revolve around that. Whilst Alex is highly intelligent to the point of cynicism, and Luke is overtly curious to the point of being almost attention-deficient and slow-witted, Haley is shallow, self-interested and tends to 'subtly' acclaim her own appearance when the opportunity appears. Haley is not especially intelligent, since she struggles with basic vocabulary and mathematics and tends to be short of memory. This is because she has always focused on her looks and popularity than becoming a clever or promising person.
Constantly going against her parents one way or another. Haley shares a lot of Claire's personality when she was in her rebellious teenage phase, even both describing their mothers as "psycho control freaks" ("Earthquake"). It has been a recurring gag throughout the series that Haley is somewhat slow and ditzy, often needing to take some time to get jokes. Her lack of intelligence is a constant point of mockery from Alex and Claire. It is also the catalyst of her becoming surprisingly self-reproachful and self-depreciating and she openly confesses that she is aware of her stupidity and is heavily marred by her family's mockery and derision of her.
It is revealed early on that she is very popular in her high school, and as a stereotypical teen she seemingly acts carefree and irresponsible, especially concerning her academics. She however is shown to gradually mature as the series progresses, learning to take responsibility for her actions and future, taking care of her parents and siblings, and unexpectedly revealing moments of wisdom and uncommon prescience. Even so, she takes pleasure in using her shrewdness to occasionally take advantage of her parents and people around her for her benefit.
Haley's interests mainly concerns her image with people outside her family, and shopping ("Express Christmas"). In season five, she is chosen to be part of an exhibit to display her photography from class, which is revealed to be of her family ("iSpy"). Soon after she became an adult, Haley has developed a liking to drinking alcohol, an interest she seems to share with her mother ("Haley's 21st Birthday").
Due to Andy's influence on her life, Haley is trying to be a better person ("Clean Out Your Junk Drawer"). Haley also wants to slow down on her wild partying ("Express Yourself"). Haley told Andy, "I like the me I am when I'm with you."
Occupation
Assistant Fashion Designer
Current Job
In Season 6, "Queer Eyes, Full Hearts", while living in the basement of her parents' house, Haley became an Assistant Fashion Designer to Gavin Sinclair after she and Andy helped each other prepare for job interviews. She was initially turned away by the mean receptionist, but she went back in there because she made a pact with a friend (Andy). When she announced she got the job to her parents and Andy, Andy told her he never doubted her. Haley tells him she got the courage to go back in there and force them to give her an interview after she thought about how brave Andy was talking to her dad about the real estate assistant job.
Season Summaries
Relationships
Family
Haley's family are very important to her, they can also be viewed as her friends. In the first Season Haley tends to not want to be friends with her family. However, as the seasons progress, she finds herself becoming friends with Gloria, Jay, and her uncles Cam and Mitch. Her family and their relationships are listed below: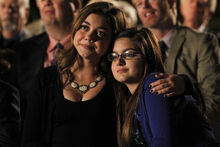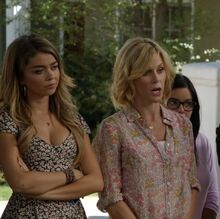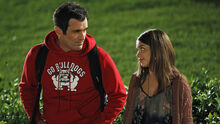 Love Interests
Haley has a few boyfriends from Season 1-7; however, two of her boyfriends standout from the others: Dylan and Andy. Dylan was Haley's high school boyfriend and they've had an on and off (currently off) relationship throughout the series. Haley's relationship with Andy was more of a "will they or won't they" type thing until they finally got together in Season 7. Haley told Andy that he is the first man she ever loved ("Double Click"). Information about her love interests are listed below.
Vincent
Scott
Chase
Will
Quotes
---
---
Haley [after breaking up with Dylan]: I miss him.
Phil: Yeah. He was your first real boyfriend.
Haley: I keep expecting him to show up. He used to come by at night and I'd sneak out to see him.
Phil: Yeah, I know.
Haley: You knew?
Phil: His car's thirty years old and doesn't have a muffler. And he honked.
— From "Mother Tucker"
Dylan: [about his shoes] I think I left them at your uncle's house.
Haley: Oh, my God! This is a disaster!
Dylan: Maybe they'll think it's theirs.
Haley: They're gay, they know what shoes they own!
— From "Boys' Night"
Alex: Last week she wore my sweatshirt.
Haley: I was doing it a favor. It was the first time the top half got any exercise.
— From "Two Monkeys and a Panda"
Haley: To do a speech, you just choose a song title and speak it, like "Don't stop believing" or "Get this party started."
Alex: That makes no sense.
Haley: Of course not. No one wants to think at graduation! It's graduation, the time when we celebrate being done with thinking.
— From "See You Next Fall"
Haley:You know what? Give your stupid little speech. Be an outcast. But you're only doing it to yourself. Because you're smart, pretty, and sorta funny in a way that I don't really get but other people seem to enjoy. You can either start fresh next year, or be the freak that flipped off her class.
Alex: You really think I'm pretty?
Haley: Shut up!
— From "See You Next Fall"
Haley: You think you have everyone figured out, don't you? Everyone has stuff that they're working through.
Alex: What kind of stuff do you have? Too many boys chasing after you? Too many parties?
Haley: I'm flunking biology, and now I have to take summer school. And all my friends are talking about going to college, while I don't think I'll even be able to go to college! Is that enough stuff for you?
— From "See You Next Fall"
---
Phil: [seeing Haley and Alex scrubbing the kitchen] Whoa. What's all this?
Haley: Mom heard us say we were bored.
Phil: Suckers.
Alex: She heard us from outside!
Haley: She has super-good hearing, like a seeing eye dog. They have overdeveloped hearing to make up for the fact... wait, the dogs aren't blind. Wait, are they? No, that wouldn't make sense.
Alex: [to Phil] You're right. If I wait long enough, she can get there by herself.
Phil: [his cell phone rings] Quick, girls. Famous Danny from "Moonstruck". Aiello?
Mitchell [on the phone to Phil]: Hey, Phil, I'm glad I caught ya.
Phil: What's up?
Mitchell: Uh, it's about Steven and Stefan. They want to see that house on Briar again.
Phil: Really? I showed it to them five times. Last time we were there, I think they got mail.
Mitchell: Yeah, well, that's why I'm calling. They hate upsetting people. Unless, of course, it's me. Then they don't mind waking me up at 7 a.m., asking me to call you.
Phil: It's no problem. I'm just hanging around. Kind of bored, really.
[Haley and Alex gasp]
Phil: What?
[Phil gasps as he realizes what he just said].
— From "Aunt Mommy"
Haley: Mom, don't do it! She'll be in the same class as I am! Why are you even taking second year Math?
Alex: You're a senior. Why are you still in second year Math?
Haley: Not still, again.
— From "Phil on Wire"
| | | |
| --- | --- | --- |
| | Everything I touch turns to detention. | |
— From "Phil on Wire"
---
Luke: Dad is getting an assectomy. I hear things.
Haley: You're getting your tonsils out?
Alex: Oh, my God! This family needs a dumbassectomy.
— From "Snip"
| | | |
| --- | --- | --- |
| | [to Alex] Are you going Goth? You can't go Goth. You still have a stuffed panda. | |
— From "Snip"
Alex: Don't throw this in my face someday, but sometimes you can be really smart. Like smart smart.
Haley: Oh, my God. Thanks. And by the way, I'm totally throwing that in your face someday. Are you kidding?
— From "My Hero"
Haley: His name is Zack, and he went to college at a place called Mit.
Alex: MIT.
Haley: I know how to spell it.
— From "Flip Flop"
---
Haley: You know what? I'd rather wait for someone who would walk through a blizzard for me and only honks to support the troops.
Scott: I don't understand you.
Haley: Neither do I!
— From "Other People's Children"
| | | |
| --- | --- | --- |
| | Haley to Andy: Sometimes the hardest part is just figuring out what you want. | |
— From "The Wedding (Part 2)"
---
| | | |
| --- | --- | --- |
| | This crazy bitch just messed with the wrong crazy bitch. | |
— From "Fight or Flight"
| | | |
| --- | --- | --- |
| | Haley to Andy: If I'm your elephant, you have a shot. That's what I'm trying to say dummy. | |
— From "Closet? You'll Love It!"
Haley about Andy: I care about him. He makes me laugh. I like spending time with him.
Phil: Do you think about him when he's not around?
Haley: Sometimes I see something funny and I think, 'Oh, Andy would love that; I wish he were here so I could share it with him.
Phil: That sounds like love to me.
— From "American Skyper"
---
Andy: Maybe we should wait for the perfect moment so we can start our relationship right. Something special and magical, like in the movies.
Haley: What do you want me to do? Chase you through an airport? I think we got it.
— From "The Storm"
| | | |
| --- | --- | --- |
| | Haley to Andy: I like the me I am when I'm with you. | |
— From "Express Yourself"
Andy: I don't regret a single minute I've spent with you.
Haley: I think you're the first man I ever loved.
Andy: Not a single minute.
Haley: You really are the first.
— From "Double Click"
---
Trivia
Haley is allergic to lactose, like her uncle Mitchell ("Treehouse").
Haley is usually the family member who misses several events, including:
In "Coal Digger", Haley is the only family member that doesn't jump in Jay and Gloria's pool, probably because of risk to her phone. In "Yard Sale", Haley wasn't present at the yard sale because she was still in college. Lily also wasn't present either. In "A Fair to Remember", Haley didn't attend the school fair. She stayed at Gloria and Jay's house near their swimming pool, this is also the first time she met Andy (see "Handy"). Joe wasn't there either. In "Integrity", Haley wasn't present at helping fix the princess castle and turn it into a boy castle for Joe.
In Season 7, Haley's portrayer, Sarah, gets a haircut. In "Summer Lovin" she wears extensions to play Haley. After a few scenes she takes them out and Haley gets a haircut.
Haley tells Andy he is the first man she ever loved ("Double Click").
Appearances
Please go to here for color coding.
Gallery