Javier Delgado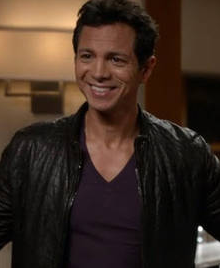 Full Name
Javier Hectoro Delgado
Origin
Atlantico, Colombia
Javier Hectoro Delgado
is 
Gloria Pritchett
's former husband and 
Manny
's biological father. He appears to be a charming and devilishly handsome man. His good looks and charm help him win the hearts of many women, including, to
Jay
's contempt, Gloria. He is able to win over almost anyone, including people who initially don't like him. He is looked up to by Manny but is always letting him down, due to his wild, oft-parting nature and his inability to stay on the right side of the law.
Biography
Javier is quite a wild person, often acting inappropriate He is oddly gifted when it comes to betting on horse racing. However, in Flip Flop he has a girlfriend named Trish (Paget Brewster) and almost gets married to her.
Javier was formerly a Triple-A Baseball player and played alongside such baseball greats as Sammy Sosa and Mark McGwire. He has many connections to matadors and baseball players. He and Jay became close, but in the end Javier let him down just as he does Manny.
Relationships
Jay
Jay finds Javier to be quite a dummy because of his wild nature. Jay was also insulted about Javier commenting on golf as being for old men and women who like women (probably meaning 'lesbians'). In "Up All Night", they became close but Javier ended up letting Jay down.
Gloria
Javier was formerly married to Gloria before the show began. Their marriage to somehow seemed to be an imploding one as Gloria commented that all they did was "fight and make love". Gloria is also very appalled by Javier's actions, especially since he took Manny to a stripper club when he wax six.
Manny
Javier has quite a good relationship with his son Manny. Manny looks up to him and they are shown to enjoy each other's company.
Trivia
Appearances
Season 1
Season 2
Season 3
Season 4
Season 5
Season 6