Jay Pritchett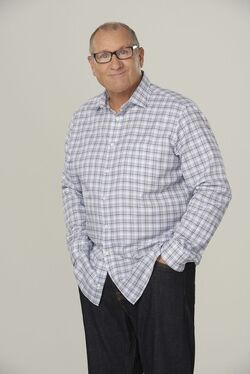 Full Name
Jason Francis Pritchett
Also Known As
Old Timer, Jay-Lo, Smarty Pants, Bucket List, Mr. P, Sexy Pants
Origin
May 23, 1947
California, USA
Jason Francis "Jay" Pritchett is the patriarch of the family and father of Claire, Mitchell and Joe, who is on the south side of middle age. He is married to Gloria and is stepfather to Manny; however he is much older than Gloria and is often mistaken for her father. At times there is a cultural clash between Jay and his wife and stepson because of their strong Colombian heritage. Most of the time Jay manages to tolerate Manny's sensitivity and Gloria's attitude. Although he usually acts tough, he values all of his extended family members. He makes a business in the closet industry, and also spends a majority of his time golfing. In Season 4, he is expecting a new child, Joe, who was born in "Party Crasher".
Biography
Before the show
Jay was born on May 23, 1947 to Mr. and Mrs. Pritchett. He also has a sister Becky and a younger brother Donnie. When Jay was 10 and Donnie was 8, a bully named Joey Calieri took Donnie's bicycle and Jay put Joey's head in the ice and when Jay was 12, he stayed overnight at his best friend Jim's house and they sneaked off to the movies and saw Solomon and Sheba when neither of them wanted to go to sleep ("Boys' Night"). Later in his life, Jay married DeDe Williams and together they had two children: Claire and Mitchell. They were married for 35 years until they divorced when Dede left to find herself. Later on, Jay remarried a Colombian woman Gloria who had a son Manny Delgado from her first marriage to a crazy man named Javier.
Personality
Overview
Jay is shown to be quite a tough person and somewhat strict. He has also been known to sometimes swear. He appears to find cute things pathetic and can shout when annoyed. But despite all this, he is a decent man and cares about his family.
Phil's Overview
Jay and Phil do get along with eachother but have conflicts over their awkwardness. In "Come Fly with Me", we see Jay and Phil hang out alone for the first time and it is painfully awkward for the both of them. Jay later gets in an on-purpose-accident with Phil, at the end, Jay does show his love for him and Cam.
Claire has said that Jay seems to have trouble with expressing his love.
(N/A)
In in interview with Mitchell, it's revealed Jay isn't comfortable with him being gay even after 5 years. Jay is still in a rocky area here but he tries his best to grow his relationship with Cam.
Season Summaries
Relationships
Family
Jay is the main source of all his family his two children Claire and Mitchell are the ones that he finds it hard to give out love to even when they were little, he was never completely sure just how to give out his love to them, which we see throughout the show from Claire and Mitchell doing the same to the people they love. Claire has learned from Jay that proving that you're right is the most important thing as we see her and Jay demonstrate the same thing in "When Good Kids Go Bad" and the family realise it's genetic. Mitchell is quite a snob and didn't used to like cute and cool things as much as he does now, and old trait he learned from Jay. Jay is very protective of his family and loving towards them although he doesn't know how to show it, he shows it through his protectiveness.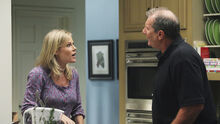 Jay does not express his love for Claire and Mitchell very well. Claire says he has always had trouble expressing his love. Jay and Claire's relationship were strained during her teenage years, during which Jay reveals she was once found by the cops naked with her boyfriend after a party. In "My Hero" Claire reveals she still finds Jay condescending and rude to her, but after overhearing Jay express his concern for Mitchell's well-being she views him in a more positive light. Despite all their troubles, Claire is closer to her father because of her mother's criticisms.
Jay also has trouble expressing his love to his son, Mitchell he also has baggage with his son: Jay was a tough father growing up and took a while to accept that his son was gay (even though it was obvious in childhood). This has led Mitchell to very much want to appeal to his father, however it doesn't take long for one to disappoint the other. Jay has recognized his mistakes with his son and has tried to reflect better understanding with his stepson, Manny. Despite Mitchell's complaints, he learned patience in dealing with his father and strength in acceptance (though it is often forgotten).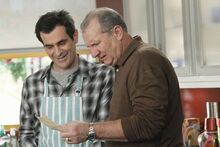 Phil is Jay's son-in-law. Jay usually mistreats and antagonizes Phil and Phil always tries really, really hard to gain approval from Jay and Jay is very stubborn at not giving him any. It is almost as if Jay doesn't like Phil at all, but Jay tells Phil directly that he liked him and also thinks very highly of him, despite their differences. Once to Jay's dismay, he accidentally told Phil that he loved him, but Phil was too busy and didn't hear it. Jay introduces Phil as "Phil is my son-in-law," but Phil says it sounds like he is saying, "Phyllis, my son-in-law." Phil also complains that Jay says "Dumb-phy" instead of "Dunphy." Phil once fixed Jay's printer and since it is Phil's only accomplishment with Jay, he brings it up every chance he gets.
Jay loves his wife Gloria, but they sometimes bicker over their life and about Manny. Also, Jay struggles to cope with Manny and Gloria's Colombian heritage. Jay and Gloria are lovers as much as they are friends and family, Jay and Gloria are best friends when they are not trying to be lovers.
Love Interests
Jay has only had two love interests as far as the show goes. We haven't seen him with DeDe in any type of romantic way but when DeDe does come back for a few episodes we do see what the relationship might have been like. Gloria is Jay's second love interest. Gloria and Jay have Manny, Jay's son-in-law, and they now have Joe, their son.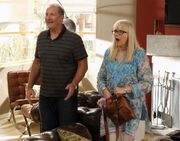 DeDe Pritchett was his first wife. DeDe is known to appear a little crazy and inappropriate at times, DeDe and Jay had Claire and Mitchell together. Jay had enough of DeDe after a few years of marriage and was told not to break it up with her until the kids were grown and could understand it from his point of view. It was visibly stated that DeDe may have a mental illness as she has frequent outbursts of anger and the need to say sexual inappropriate things infront of her family. It also seems that she doesn't know when it's time for her to stop talking or stop being inappropriate.
Gloria Pritchett is his second wife. They are very different people. She is from Columbia and Jay is from the U.S.. Gloria and Jay have had their fights but they are always seen making up, they also seems to always bicker about Manny's life, social and love wise. Jay is seen trying to not let manny get hurt. However Gloria is seen to do the same thing but in a way they can cause him to get hurt. Jay has seen to have a tough time balancing, Manny and Gloria, and their Columbian heritage. Gloria and Jay get along very well and it seems Jay hasn't got sick of her. Gloria, before Jay was with Fulgencio, they had Manny together, now Jay's son-in law. Gloria and Jay had Joe Pritchett in Season 4.
Friendships
Vincent aka "Shorty" is Jays' best friend.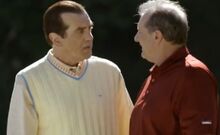 Jay gives Manny's poncho back to him, and Manny informs his parents he will be playing the traditional Colombian pan flute, and doing the dance. Gloria then tells Jay to break the flute because the poncho plus the flute plus the dance is more than she can handle. So, Jay stomps on the flute, "accidentally" breaking it so Manny cannot perform.
In "Fifteen Percent"; where Vincent is first introudced, Mitchell thinks that Vincent may be gay as, when he first meets him, Vincent touches Mitchells coat, a little too much all over. Jay comes home to Gloria who also believes that Shorty is gay. Gloria convinces Jay that Shorty is gay. Jay later tells him that he will help him come out as he had the same situation with Mitchell, when Jay tells Shorty that he can tell him his situation, Jay waits for Shorty to say "I'm gay" he insteads says he's in debt and when Jay brings up 'gay' Shorty becomes outraged that Jay suddenly thinks this and asks where he got that thought from but Jay ends up in further deep argument with Shorty. Jay and Shorty later resolve their conflict when Jay helps him out with his debt, Shorty gives Jay 2 tickets (one for each) to see Michael Bublé, Jay, thinking that the ticket is for Gloria, tells Shorty that Gloria will love them, Shorty corrects Jay that the ticket is for him. It's evident that Jay probably doesn't want to go. After this Shorty sees a guy walking and asks who does his hair and calls him handsome, which receives a look from Jay.
Other Family
Very little of Jay's family has appeared on the show. His father fought for the U.S., thus indicating that he may have fought in the war and it seems that he wasn't always affectionate with Jay. He died at the age of 63.
Mrs. Pritchett is Jay's mother
We don't find out what her first name is. It appears Jay was very affectionate with his mother. Phil finds out on Mothers' Day that he had written her a poem for Mother's Day one time as a boy and one time when Jay had a Little League Coach during a football game and was laying on to him about something, she came charging out of the stands and went up to the guy face-to-face and nose-to-nose and told him "Nobody and I mean nobody yells at my little boy". which caused Jay to start crying when he told this story to his family.
Donnie is Jay's brother.
They at first have problems, but when Jay discovered that Donnie was suffering from cancer, he was much more sympathetic and the two of them shared an emotional moment.
Becky is Jay's sister.
In The Kiss, Jay mentioned that his father thought he was Becky when their dad kissed Jay good night.
Interests
Jay enjoys traditionally manly hobbies such as:
Watching football (he used to be a quarterback in college)
Constructing model airplanes
Golfing
Fishing.
Trivia
He along with the other parents: Gloria, Phil, Claire, Mitch, and Cam are the only characters who have appeared in every episode.
Jay can be seen reading a newspaper that was previously seen in 'Married... with Children', which he starred in.
He likes constructing model airplanes ("Come Fly with Me"), ("Baby on Board"), ("ClosetCon '13").
We see that Jay seems to enjoy golfing very much ("Fifteen Percent"), ("Earthquake"), ("Lifetime Supply"), ("A Slight at the Opera")
His favorite song is "Midnight Train to Georgia" by Gladys Knight & the Pips ("The Late Show").
Appearances
Please go to here for color coding.
Gallery