Kenneth Ploufe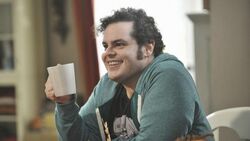 Occupation
Internet Billionare
Seasons
S1
-
S2
-
S3
-
S4
-
S5
-
S6
Kenneth Ploufe is an old kid neighbor of the Dunphy family who is seen in "Punkin Chunkin".
Kenneth idolized Phil when they were younger. When he visits the Dunphys in Thanksgiving, he tells them that he dropped out of college and is now an Internet billionaire because of the ideas he had on video games, something that he owes to Phil since he was the one who was always telling him to follow his heart. This makes Phil to start thinking that he must let fly his creativity to end up like Kenneth, but the only thing that stops him is Claire's discouragement.
Ad blocker interference detected!
Wikia is a free-to-use site that makes money from advertising. We have a modified experience for viewers using ad blockers

Wikia is not accessible if you've made further modifications. Remove the custom ad blocker rule(s) and the page will load as expected.