Larry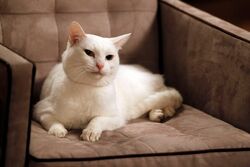 Portrayed By
Frosty the Cat
Larry is the name of at least three male cats owned by Mitchell Pritchett and Cameron Tucker. They bought the original cat in "Bringing Up Baby" after Lily demands a kitten after finding out she won't get a new brother.
In "Larry's Wife" Larry hasn't shown up for a while, and Cameron presumes he is dead. He then makes up a story about Larry getting married and moving away with his wife to explain to Lily why he wasn't coming back. However, just as he was finishing the story Larry comes home so Cameron tells Lily that the wife died and they host a funeral that goes out of hand.
Larry was dyed pink with Cherry Kool-Aid by a drunk Mitchell in "Heart Broken".
In "Pig Moon Rising" Mitchell and Cameron reveal to each other that both of them have replaced Larry without letting the other one know so there are at least three white cats that have lived with the family as Larry.
Appearances
Please go to here for color coding.
Ad blocker interference detected!
Wikia is a free-to-use site that makes money from advertising. We have a modified experience for viewers using ad blockers

Wikia is not accessible if you've made further modifications. Remove the custom ad blocker rule(s) and the page will load as expected.