Larry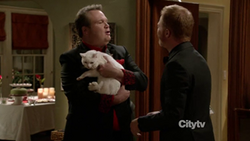 Portrayed By
Frosty the Cat
Larry is a male cat owned by Mitchell Pritchett and Cameron Tucker. They bought the cat in "Bringing Up Baby". Cam made up a story about Larry having to go to marry his wife to explain to Lily why he was lost.  But then had to host a fake funeral to explain to Lily why Larry came back to live with them again. He was dyed pink by a drunk Mitchell in "Heart Broken". Larry is played by a cat named Frosty.

Appearances
Please go to here for color coding.
Ad blocker interference detected!
Wikia is a free-to-use site that makes money from advertising. We have a modified experience for viewers using ad blockers

Wikia is not accessible if you've made further modifications. Remove the custom ad blocker rule(s) and the page will load as expected.