Lewis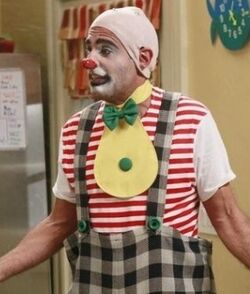 Occupation
Clown (formerly)
Seasons
S1
-
S2
-
S3
-
S4
-
S5
-
S6
Lewis
is
Cameron Tucker
's former clown partner who appears in "
Send Out the Clowns
". 
Their routine of Fizbo and Lewis was a huge hit at birthday parties, but Cam ended the partnership when he met Mitchell. They reunited for one last show, despite Mitchell's doubts. But it turned out Lewis thought they were reuniting permanently. Cam apologized because he arranged it to be a one-off reunion. Lewis was upset about it, but he understood. Mitchell and Lily attended. Only the 'Little Fizbo' routine they had going (with Fizbo's face and Lewis's hands) got a little too real in front of the crowd. And Cam couldn't get anybody to help him because everyone thought it was part of the routine.
Ad blocker interference detected!
Wikia is a free-to-use site that makes money from advertising. We have a modified experience for viewers using ad blockers

Wikia is not accessible if you've made further modifications. Remove the custom ad blocker rule(s) and the page will load as expected.