Lucy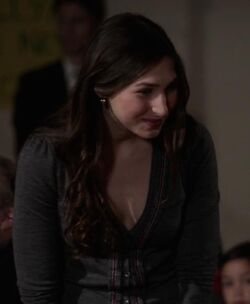 Portrayed By
Samantha Ressler
Seasons
S1
-
S2
-
S3
-
S4
-
S5
-
S6
Lucy
is
Lily Tucker-Pritchett
's dance teacher who appears in "
Baby on Board
".
Jay and Manny have to baby-sit Lily and also take her to her dance recital. There, Lucy informs Jay that Lily doesn't want to perform. Hence, Jay goes to check on Lily, and learns that she is upset because Mitchell and Cameron aren't there to see her because they have gone down to Mexico to adopt a baby boy. Jay tries to convince her to get on stage and she finally agrees to do it, but only under one condition: if Jay dances with her. He first refuses to do it, but he finally agrees, although reluctantly.
Ad blocker interference detected!
Wikia is a free-to-use site that makes money from advertising. We have a modified experience for viewers using ad blockers

Wikia is not accessible if you've made further modifications. Remove the custom ad blocker rule(s) and the page will load as expected.