Luke Dunphy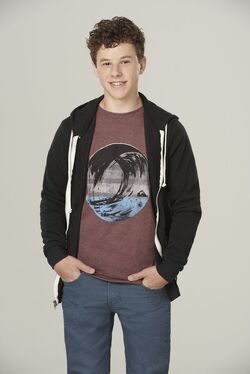 Origin
November, 1999
California, USA
Lucas Phillip "Luke" Dunphy
, is Claire and Phil's youngest and most rambunctious child, who is often doing his own thing. He is named after his great-grandfather (
DeDe
's father). At times, he can be a trouble maker, once shooting his sister with a toy gun and getting into a fight with
Manny
at school. Like most children, Luke is very innocent and does not always understand the repercussions of his actions; he once announced at a family gathering that his mom thought Gloria was a "Coal Digger." He is also thought to be a bit vacuous, because of many questionable actions; some of these actions that he is known for are getting his head stuck in the banister and jumping on the trampoline wearing only underwear and a box on his head. He also shows signs of ADHD when he repeatedly becomes distracted while doing his Van Gogh assignment, which he seems to get from his father. Luke is currently 14.
Phil and Luke have a very special relationship. Luke is Phil's youngest and only male child. Luke and Phil have more of a buddy relationship instead of a father son relationship. In "Door to Door" Phil says," I've always said that if my son thinks of me as one of his idiot friends then I've succeeded as a dad" . Luke and Phil plan and scheme together like in the episode "Fears", when they both want to explore under the house or in the episode "Phil on Wire", Luke helps motivate and support his dad.
Luke is shown not to have many romantic interests, but in "A Fair to Remember", it is revealed that he has a crush on a girl named Sienna, is also a friend of Alex's. But in the end, because of Alex, there is no development in the relationship.