Maisie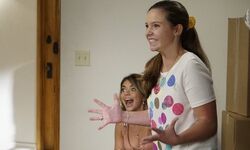 Portrayed By
Chloe Csengery
Seasons
S1
-
S2
-
S3
-
S4
-
S5
-
S6
-
S7
-
S8
Maisie
was
Alex
's college roommate, she is known to be bubbly and little dumb, she is everything Alex doesn't want in a college roommate, but
Haley
manages to convince Alex to let Maisie stay. Alex wanted a roommate who was like her, smart, a know-it-all. Maisie has been known to make a couple of inappropriate comments but all done unintentionally.
In "The Storm" Maisie is studying with Alex at the Dunphy house (and later at Jay and Gloria's) where she ends up admitting to Luke that she thinks he's really hot and could see herself making out with him under the right circumstances.
Ad blocker interference detected!
Wikia is a free-to-use site that makes money from advertising. We have a modified experience for viewers using ad blockers

Wikia is not accessible if you've made further modifications. Remove the custom ad blocker rule(s) and the page will load as expected.