Maisie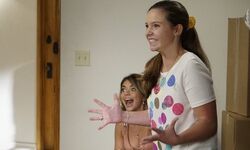 Portrayed By
Chloe Csengery
Seasons
S1
-
S2
-
S3
-
S4
-
S5
-
S6
-
S7
Maisie
was
Alex
's college roommate, she is known to be bubbly and little dumb, she is everything Alex doesn't want in a college roommate, but
Haley
manages to convince Alex to let Maisie stay. Alex wanted a roommate who was like her, smart, a know-it-all. Maisie has been known to make a couple of inappropriate comments but all done unintentionally.
Ad blocker interference detected!
Wikia is a free-to-use site that makes money from advertising. We have a modified experience for viewers using ad blockers

Wikia is not accessible if you've made further modifications. Remove the custom ad blocker rule(s) and the page will load as expected.