Modern Family
Comments

2
556pages on
this wiki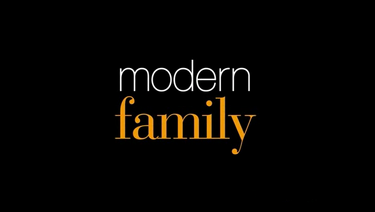 Modern Family
is an American television sitcom, created by
Christopher Lloyd
and
Steven Levitan
, that debuted on ABC on September 23, 2009. Presented in mockumentary style, the fictional characters frequently talk directly into the camera. The program is the story of Jay Pritchett, his second wife, his stepson, and their infant son; and his two adult children and their families in suburban Los Angeles. Christopher Lloyd and Steven Levitan conceived the series while sharing stories of their own "modern families".
As creators Christopher Lloyd and Steven Levitan retold stories about their families, they realized that the stories could be the basis for a show. They started working on the idea of a family being observed in a mockumentary-style show. They later decided that it could be a show about three families and their experiences. It was originally going to be called My American Family, and the camera crew was originally supposed to have been run by a fictitious Dutch filmmaker named Geert Floortje who had lived with Jay's family as a teenage exchange student and developed a crush on Claire (while Mitchell had had a crush on him). The producers later felt that this component was unnecessary, and it was scrapped. Lloyd now prefers to look at the show as "a family show done documentary-style".
The creators pitched it to the Big Three television networks (they did not pitch it to Fox because of issues Lloyd had with the network over Back to You). CBS, which was not ready to use the single-camera style of filming nor ready to make another large commitment, rejected the series. The network had recently aired Welcome to The Captain and Worst Week, two single-camera sitcoms that lasted only one season (CBS would not attempt another single-camera series until 2013, when it picked up both We Are Men and The Crazy Ones for its fall lineup; We Are Men was cancelled after two episodes, The Crazy Ones was also cancelled after one season). NBC, already broadcasting The Office and Parks and Recreation, decided against taking on a third mockumentary-style show. ABC accepted the series and picked it up for a full season.
The show revolves around three families living in the Los Angeles area who are interrelated through Jay Prichett and his children, Claire and Mitchell. Patriarch Jay is remarried to a much younger woman, Gloria, a passionate Colombian with whom he has a baby son, Joe Pritchett; and a 14-year-old son from Gloria's previous marriage, Manny. Jay's daughter Claire is a homemaker married to Phil Dunphy, a real-estate agent and self-professed "cool dad". They have three children: Haley, the stereotypical ditzy teenage girl; Alex, a nerdy, smart middle child; and Luke, the offbeat only son. Jay's lawyer son Mitchell and his partner Cameron have an adopted Vietnamese daughter, Lily.
Main Cast
Edit
Recurring Cast
Edit
Ella & Jaden Hiller played Lily for the first two seasons, but were replaced by Aubrey Anderson-Emmons as of the third season.
The series premiered on September 23, 2009. On January 12, 2010 ABC renewed it for a second season. The second season premiered September 22, 2010, airing in the same timeslot as the previous season. On January 10, 2011, midway through the second season, ABC renewed the series for a third season. The third season premiered on September 21, 2011 with two back-to-back episodes, beginning with a one-hour special. On May 10, 2012, Modern Family was renewed for a fourth and a year later, on May 10, 2013 for a fifth one. The fourth season premiered on September 26, 2012; the fifth season premiered on September 25, 2013. The sixth season premiered on September 24, 2014.
DVD Releases
Edit