Welcome to the Modern Family Wiki, a collaborative encyclopedia for everything and anything related to ABC's American sitcom Modern Family. Currently, there are 685 articles and we are still growing since this wiki was founded. The wiki format allows anyone to create or edit any article, so we can all work together to create a comprehensive database for Modern Family. If you need any help or have any questions, please, contact to one of the admins.

Latest Episode
"Integrity" aired April 29th, 2015 on ABC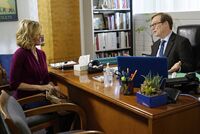 Phil and Jay run an errand together to pick up Lily's hand me down princess castle for Joe, both though are in a mood because Phil is upset that Claire won't let him buy a video game console, and Jay thinks Gloria is letting Joe play with too many girlie items. Mitch and Cam babysit Joe and both get the itch for another baby -- that is until Joe presents to be quite the handful. Meanwhile, Gloria tries to help Haley stand up for herself at work, and Claire tries to bribe Luke's principal to give him one of the student awards this year.
---

Next Episode
"Patriot Games" airs May 6th, 2015 on ABC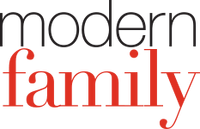 Alex's worst nightmare is realized when she gets news that she has to share the Valedictorian title with her number one competitor, Sanjay Patel. Both sets of parents get equally caught up in the rivalry and convince Principal Brown to let them break the tie via a gym grade they both have not completed - a one mile run. Elsewhere, Gloria is studying for her upcoming U.S. citizenship test and a visit from Javier throws her off her game, and Mitch and Cam blindly agree to join a protest against a local restaurant that they are actually secretly excited about.
---

Featured Article
Andy is the "manny" (male nanny) of Joe. Not much is known of his past/personal life except that he grew up in a rural area (Utah), has worked previously with kids, and has a girlfriend in the U.S coast guard named Beth. Andy becomes a quick friend to the whole Dunphy family, except Jay who considers him to be weird. It is shown that Andy has a lot of the same traits as Phil. Andy and Haley quickly start a hate-then-love relationship. It is later revealed that he has feelings for Haley, after asking if Haley meant anyone in particular when she told him that he deserved better.
---
More Featured Articles, Nominate Article

Disclaimer
The Modern Family Wiki is a fan site only and not in any way related to Modern Family, ABC or any other of it's affiliates. All copyrights and trademarks belong to their individual owners and material on this website is used by the terms of Fair Use under the United States Copyright policy. Any one person is allowed to edit the Modern Family Wiki and as such material that violates this policy may have been added. If you do happen to come across any violations please report it to an administrator and it will be removed or edited as soon as possible.
---
See the terms of Fair Use for more information.

Affiliation
---

Featured Poll
What do you think about Haley having feelings for Andy?
---
For other voting polls, see Modern Family Wiki:Polls

Modern Family Blogs
OMG, i am so excited for season seven! i have been waiting forever! it feels like its never going to come​​:(

Read more >
---