Home
Talk

4
404pages on
this wiki

Next Episode
---
Countdown is set to central standard time.

Featured Article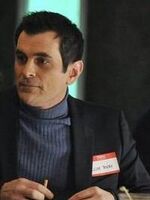 Philip "Phil" Dunphy (Ty Burrell), is Claire's husband of 16 years who sees himself as the "cool dad." He dotes on his wife Claire and constantly tries to find ways to bond with his three kids. He is seen as very competitive, some examples being his nature of always beating his son at basketball. He has a very child-like attitude and is referred to by Claire as the "kid [she's] married to." He uses a parenting method that he calls "peerenting", which is a combination of talking like a peer, but acting like a parent.
---
More Featured Articles, Nominate Article

Disclaimer
The Modern Family Wiki is a fan site only and not in any way related to Modern Family, ABC or any other of it's affiliates. All copyrights and trademarks belong to their individual owners and material on this website is used by the terms of Fair Use under the United States Copyright policy. Any one person is allowed to edit the Modern Family Wiki and as such material that violates this policy may have been added. If you do happen to come across any violations please report it to an administrator and it will be removed or edited as soon as possible.
---
See the terms of Fair Use for more information.

Affiliation
---

Featured Quote
"

I always feel bad for people with emotionally distant fathers. I'm surprised I didn't end up a stripper.

"
---
More Featured Quotes

Modern Family Blogs
Luke Lyons is a high school football player and is the cousin of Alex Dunphy. 




Luke is a very smart and funny as described by his teachers and friends. He attends same high school as his cousin Alex D…


Read more >
---