Welcome to the Modern Family Wiki, a collaborative encyclopedia for everything and anything related to ABC's American sitcom Modern Family. Currently, there are 876 articles and we are still growing since this wiki was founded. The wiki format allows anyone to create or edit any article, so we can all work together to create a comprehensive database for Modern Family. If you need any help or have any questions, please, contact to one of the admins.

Latest Episode
"Sex, Lies & Kickball" aired October 18th, 2017 on ABC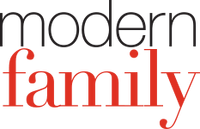 Jay's best friend, Shorty, is back from Costa Rica and stays at the house so they can catch up and reconnect. However, Shorty is spending more time with Gloria and seems to be avoiding Jay. Meanwhile, Alex is ready to shed her good-girl image and is going to prove to Claire that her relationship with Ben is definitely a sexual relationship.
---

Next Episode
"It's the Great Pumpkin, Phil Dunphy" airs October 25th, 2017 on ABC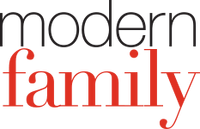 Phil and Claire still want to celebrate Halloween in a big way, but it seems no one shares their same enthusiasm making them wonder if maybe everyone is right. Over at the Pritchett's, Mitch and Cam are frustrated by how long Jay is taking to finish their kitchen remodel, which forces Mitch to finally stand up to his dad. Meanwhile, Gloria's hospitality is wearing thin when Cam oversteps his boundaries as a house guest.
---

Featured Article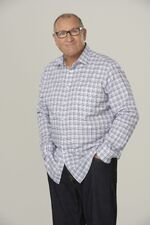 Jay is the patriarch of the Pritchett family. He is the father of Claire, Mitchell and Joe. He is married to Gloria and is stepfather to Manny. He is a veteran of the Vietnam War and is the former owner of Pritchett's Closets & Blinds.

Jay was born on May 23, 1947 to Mr. and Mrs. Pritchett. He also has a sister Becky and a younger brother Donnie. When Jay was 10 and Donnie was 8, a bully named Joey Calieri took Donnie's bicycle and Jay put Joey's head in the ice. When Jay was 12, he sneaked off to the movies with his best friend Jim and after seeing Solomon and Sheba swore someday he would marry Gina Lollobrigida ("Boys' Night"). Before he turned 18, he used a fake ID to enlist in the army unsuccessfully ("Hit and Run").


...continue reading here.
---
More Featured Articles

Notice
The Modern Family Wiki is making some changes! If you'd like to see a list of just a few of the things we're looking at changing CLICK HERE. A few of the things you can look forward to are updates to the main page, updates to the MonoBook skin, changes to the Modern Family Wiki's chat feature, the recruiting of new admins, as well as increasing current admin privileges and changes to the site that will help with overall navigation and accessibility.


Read More...
---

Disclaimer
The Modern Family Wiki is a fan site only and not in any way related to Modern Family, ABC or any other of it's affiliates. All copyrights and trademarks belong to their individual owners and material on this website is used by the terms of Fair Use under the United States Copyright policy. Any one person is allowed to edit the Modern Family Wiki and as such material that violates this policy may have been added. If you do happen to come across any violations please report it to an administrator and it will be removed or edited as soon as possible.
---
See the terms of Fair Use for more information.

Affiliation
---

Featured Quote
"

Cam: ...she wanted a traditional prom night, with a guy she could lose her virginity to. I couldn't blame her. I wanted the same thing.

"
---
More Featured Quotes

Modern Family Blogs
I've created a story over on Fanfiction.Net about modern family. It's called Casey Dunphy: Her Story. It includes my OC who is the youngest of the Dunphy children and it follows how she grows up thro…

Read more >
---
Ad blocker interference detected!
Wikia is a free-to-use site that makes money from advertising. We have a modified experience for viewers using ad blockers

Wikia is not accessible if you've made further modifications. Remove the custom ad blocker rule(s) and the page will load as expected.