Mrs. Ko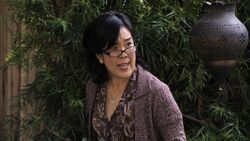 Seasons
S1
-
S2
-
S3
-
S4
-
S5
-
S6
Mrs. Ko
was
Mitchell Pritchett
and
Cameron Tucker
's landlady.
In "Slow Down Your Neighbors", while Cameron is taking the trash out, he encounters with Mrs. Ko and tells him that she has just finished showing their apartment upstairs. Cameron then mentions that his new friend Barry is living there, but, however, Mrs. Ko tells him that the apartment is not taken over by anyone (she doesn't even know who Barry is). This surprises Cameron, who later realizes that Barry has been living in Lily's princess castle, as he is homeless.
It is revealed in a deleted scene from "Best Men" that she died in the past two years.
Ad blocker interference detected!
Wikia is a free-to-use site that makes money from advertising. We have a modified experience for viewers using ad blockers

Wikia is not accessible if you've made further modifications. Remove the custom ad blocker rule(s) and the page will load as expected.